Cotton Farm Tour and Lunch
Curious about cotton? This tour will answer your questions! You not only learn, but have fun at the same time. Presentations and demonstrations are primarily delivered by Nancy Caywood-Robertson and Al Robertson. You might remember Nancy, who for many years headed up the Farm Smart Program.
Experience
a presentation on cotton
a hayride pulled by an antique tractor
an equipment demonstration
an opportunity to pick cotton
included lunch in the field
make a cotton kid to bring back
Informative
As part of the presentation—and in addition to learning about cotton—you will be informed about: farmers as stewards of the land; the importance of water conservation; food safety; and challenges facing family farm owners.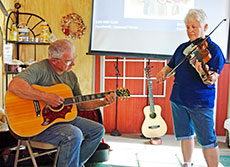 Entertaining & Fun
Tours start with live music (Nancy plays fiddle, while Al plays guitar and autoharp). They make you feel at home on their farm!
Interactive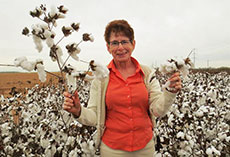 This farm tour is hands-on: you will pick lint from cottonseeds, compare the lengths of Pima and Upland cotton, tour the farm on a hay wagon, and see farm equipment up close (some of which is demonstrated). You will also have the opportunity to pick cotton for yourself and take it home with you.
Caywood Farms is a fifth-generation, family-operated farming business located near Casa Grande, Arizona, and growing cotton and forage crops.
7:00AM depart Foothills.
7:30AM depart Yuma
Return to the area late evening.
$105…Escorted Tour includes deluxe motorcoach transportation, tour and lunch at the farm with beer and wine and make a cotton kid to bring home.
This trip will be offered only once in 2020
January 14 – Tuesday
 Call 928-783-8888 to speak with a Reservationist
For a description of tour policies, including cancellation penalties, click "Policies and Procedures" at the very bottom of this page.
Yuma Office, 333 S Main Street, Yuma, AZ 85364
(928) 783-8888 or (800) 706-8687