14 Nights ~ From San Diego (eastbound)
January 20 – February 4, 2018
MS Westerdam
Embark on what savvy world travelers consider the thrill of a lifetime—cruising ocean to ocean via the Panama Canal.
For any true seafaring explorer, the Panama Canal is a must-see destination. Dubbed "one of the seven wonders of the modern world" by the American Society of Civil Engineers, this 48-mile waterway divides two continents and connects two mighty oceans.
A Panama Canal transit takes you through a total of 12 locks. During your journey from the Pacific Ocean to Gatún Lake, your cruise ship will rise through the locks of Miraflores and Pedro Miguel. Near the town of Gatún, you'll feel her descend to the Atlantic. As you make your eight-hour transit, an onboard expert will guide you through the Canal's tumultuous history, ingenious design and profound effect on geopolitics and the world economy. Bring your questions, because your guide is there to enrich your experience of this engineering marvel.
You can experience a number of fascinating destinations in addition to the canal. In Cartagena, Columbia, you can explore the 16th-century Castillo San Felipe de Barajas fortress, built to protect the port once besieged by Sir Francis Drake. Wander Mexico's charming Puerto Vallarta, once a mecca for jetsetters and movie stars, with its red tile roofs, cobblestone streets, chic shops and cafés. If you're a birder, grab your binoculars and get ready to add scores of sightings to your life list in Costa Rica's Puerto Caldera.
After a memorable day of exploring, you can unwind in the elegant comfort of your Holland America Line cruise ship. The mid-size Westerdam is a fabulous destination in her own right. At the Culinary Arts Center, you can explore Caribbean classics, such as conch croquettes, in a cooking class. Dine on the freshest seafood and tropical fruits. Enrich your adventures with talks by local experts. Learn pro tips for editing your travel photos and videos at a Digital Workshop powered by Windows. Plus you can rejuvenate with a luxurious hot stone massage and choose from a wide selection of entertainment options each evening.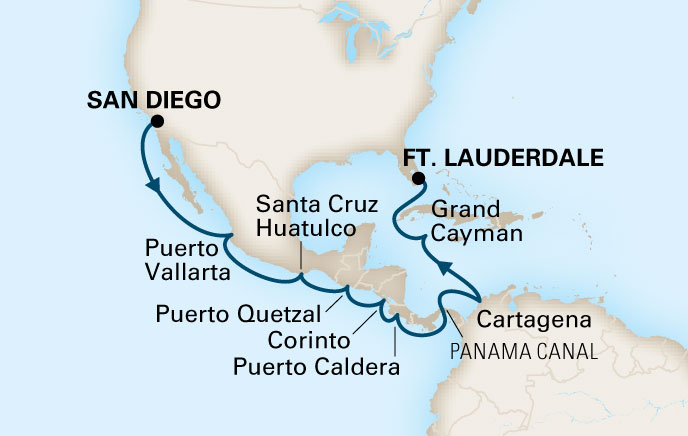 Day 0: San Diego, CA
Day 1: At Sea
Day 2: At Sea
Day 3: Puerto Vallarta, MX
Day 4: At Sea
Day 5: Huatuco, MX
Day 6: Puerto Quetzal, Guatemala
Day 7: Corinto, Nicaragua
Day 8: Puerto Caldera, Costa Rica
Day 9: At Sea
Day 10:  Panama Canal Cruising
Day 11: Cartagena, Colombia
Day 12: At Sea
Day 13:  Georgetown, Cayman Islands
Day 14: At Sea
Day 15: Fort Lauderdale, FL
PORT HIGHLIGHTS
San Diego
Beautiful, brilliant San Diego has the sun, the beaches, and the climate to die for. But don't let that fool you – the city is a power. It's the sixth-largest city in the U.S. and a center for military industry, trade, and biotechnology. Of course, it's a great place for cruise visitors. The San Diego Zoo is one of the world's best. Balboa Park is both a natural space and a collection of wonderful museums. Old Town is a colorful gaggle of shops and restaurants. Oh, and the beaches: Coronado, Mission Beach, Pacific Beach, La Jolla. The forecast is for a high of about 75 degrees. Every day. Sigh.
Puerto Vallarta, Mexico
Puerto Vallarta squeezed into the thin space between Banderas Bay and the verdant folds of the Sierra Madre. It's no longer the well-kept secret of the artists, writers and Hollywood stars who first "discovered" it in the 1960s, but "PV" (as it is affectionately known) still retains the essence of the fishing village it once was. Viejo Vallarta, the old town, is a mix of red-tiled buildings, cobbled streets, chic shops and busy open markets. Other highlights include Mismaloya Beach, Gringo Gulch, and Conchas Chinas, the Beverly Hills of Vallarta. Head inland for more adventure, up into the rugged canyons and luxuriant jungles of the mountains.
Huatulco, Mexico
Everything you ever wanted in a seaside resort: warm sun, sandy beaches and nine beautiful bays rimmed in every shade of blue. Nearby: low-growth caducifolia jungles teeming with birdlife and the nesting grounds of endangered sea turtles. Sample shore excursions: Five Bays by Catamaran; Horseback Riding; Bird-watching Eco Tour; ATV Jungle Adventure.
Puerto Quetzal, Guatemala
Modernity meets Maya in Puerto Quetzal. Mayan culture still prevails in parts of Guatemala and other Central American nations. Weavers spin their brilliantly colored stories on backstrap looms, while monolithic stone temples of Tikal stand in silent testament to ancient ritual and wisdom. Developments in recent decades transformed the town into a bustling shipping center that handles Panamax-sized vessels of cargo. Its proximity to the Panama Canal a few hundred miles to the north helps considerably. Cruise passengers especially benefit from the modern port conveniences in Puerto Quetzal. The facilities here make transfers to Mayan archaeological sites of interest much easier, including adventures into the interior. Sample shore excursions: Casa Santa Domingo & Antigua; Finca Coffee Plantation Tour; Tikal Expedition by Air.
Corinto, Nicaragua
No one was watching, but Nicaragua turned into a new and wild adventure tourism phenomenon, and there's still much left to discover there in addition to the premium local rum and strings of beckoning volcanic peaks. Look for Puerto Corinto, a small scenic town on the northwest coast for the real local flavor in a region bounded by great lakes to the south and Honduras to the north. Peaks of neighboring volcanoes, pristine beaches, fields of sugar cane, and lush mangrove forests combine to create an intoxicating experience for all senses. Stroll the Costa Azul for views of the bay and its islands. In nearby Chinandega, discover Mayan artifacts at the archeological museum. Or, explore the remains of León Viejo, buried under centuries of volcanic debris.
Puerto Caldera, Costa Rica
It's hard to throw a stick in Costa Rica and not have it hit a national park. The city of Puerto Caldera, on Costa Rica's Pacific coast, has a number of them within easy reach for cruise visitors. Just to the south, Carara is a mecca for birders, especially those chasing the scarlet macaw. Poas Volcano is inland, and rises to nearly 9,000 feet. See it before it blows again. Barra Honda contains a series of limestone caves. Palo Verde preserves one of the last tropical dry rainforests in Central America. Arenal has the most active volcano in the country. Tapanti contains species of orchids discovered only in 2009. Grab your hiking boots and a pair of binoculars. It's all a feast, wherever you go.
Panama Canal Cruising
The narrow isthmus separating the Atlantic from the Pacific Ocean had a colorful and turbulent history long before Ferdinand de Lessups first dreamed of building a transcontinental canal. Spanish conquistadores hauled Incan gold through the dense rainforest to ports on the Atlantic. English freebooters sought to ransack those ports and attack the treasure ships that sailed from Portobelo. And 49ers braved mosquitoes and yellow fever to get to the California goldfields. While the Panama Canal remains one of the great American engineering feats of the 20th century, visitors to Panama will discover a whole range of scenic wonders. Tropical flora and fauna nearly reach out from the shores in an environment overflowing with life, and water everywhere, such as in Gatun Lake just East of Cristobal. Consider a range of land and sea excursions which bring you closer to the environment and culture of a key part of world history.
Cartagena, Colombia
Privateers loved Cartagena, the chief Spanish port in New Granada (today's Colombia). Sir John Hawkins besieged the city in 1568 and his nephew, Sir Francis Drake, sacked it 18 years later. In response, Spain poured millions into the port's defense, building the fortifications that are today a UNESCO World Heritage Site. The town the walls protected is also part of that World Heritage designation. Cruise visitors can walk those deeply textured alleyways today through some of the best-preserved colonial neighborhoods of the Americas. When you're ready for a change, there are beaches ready to hand. Bocagrande is busy and close to the city. Playa Blanca is south across the bay and quieter. Both are lovely.
Georgetown, Cayman Islands
The Cayman Islands have everything you would want from a Caribbean destination—warm breezes, clear seas and a laid-back attitude—but the archipelago also has something you might not expect: an exciting culinary scene. Between the celebrity chefs who've set up shop on Grand Cayman and the 135 or so resident nationalities that have helped season the island's giant melting pot, this is, hands down, one of the best places to eat in the Caribbean. In and around George Town, the Cayman Islands' capital, you'll find such an amazing array of culinary offerings, you'll fear for the future of any buttons, snaps or hooks on your waistband.
And that's where the island's other chief pleasures come in: There's enough walking (whether along the fabled Seven Mile Beach, around historic sites or through lush gardens) as well as stunning swimming, snorkeling and diving to be done to counter the effects of . . . So. Much. Good. Food. Or at least you can begin to. Oh, and one warning: Should you wind up at Rum Point—Grand Cayman's castaway beach imago—there's a good chance your ship is, by your own design, sailing without you.
Fort Lauderdale, Florida
Beaches, boats and year-round warm, sunny weather make Ft. Lauderdale a mecca for snowbirds, vacationers and sports enthusiasts. Once an infamous spring break destination, the "Venice of America" now has a decidedly upscale, sophisticated vibe. Cruise its famous canals and check out the passing scene of luxury mansions. Watch for the historic Stranahan home. Once a trading post, it's the city's oldest surviving structure. Spend an afternoon in the posh galleries and boutiques of Las Olas Boulevard, and unwind in a chic little bistro. Wildlife lovers will find much to explore in nearby Everglades National Park, a UNESCO World Heritage Site. Grab your binoculars and sunscreen and hop on an airboat. The park is home to alligators; manatees, gentle giants of the swamps; as well as rare Florida panthers. Birders can add the great blue heron, white ibis, pelican and snowy egret to their life lists.
Prices from …
$1599 pp/do Inside
$1999 pp/do Oceanview Cabin
$2799 pp/do Balcony
Prices include cruise rate for 14 nights. Taxes, add $410 per person.
Cruise is one way from Fort Lauderdale to San Diego
Transportation to/from San Diego and Fort Lauderdale not included.
Government fees and taxes subject to change without notification. Prices subject to change.
We highly recommend insurance. Please inquire about this option as rates are not included in the price.
CALL 800-706-8687
TO SPEAK WITH OUR TRAVEL SPECIALISTS